Farmhouse decorating mistakes you didn't know you were making.
Five farmhouse decorating mistakes, you didn't know you were making.
There are so many variations on Farmhouse decorating right now. There's  Traditional Farmhouse, Rustic Farmhouse, French Farmhouse, Modern Farmhouse, and Farmhouse Glam, No matter which version you are going for there are some common mistakes that we make in making our homes Farmhouse cozy. This post has lots of affiliate links, as it was often the best examples I could come up with.  Just click the photo to shop the look.
Too much white.
Yes farmhouse style has a lot of white, but too much white turns into more of a cottage feel. This is the mistake I made in my family room. I had white everything, sofa, tables, entertainment unit, shelves, everything in the room was white. I thought that the black and white buffalo plaid curtains, and some of the accessories made it Farmhouse, but it really didn't. This picture from the room was taken as I was getting ready to change out my seasonal decor, so it did have more color  but, it was just too white and erred on the side of cottage cute.  I am working on a redo of this room as time and money permit, so the reveal will be a few months down the line.   See how my room is all white, and the better room has a mixture of white and wood tones.
Some people use a dark color for table tops to get this feel, or you could also use a weathered old wood look, Either way is fine as long as some of the wood in the room is not white. Below is a beautiful example of a mix of wood tones and colors in a Farmhouse Glam dining room. I went to a furniture showroom to find the look I wanted to share. Look at how this room works:
 The wrong accessories.
Accessories can make or break a room. This is an easier fix than having to get all new furniture. First off, too much galvanized is a problem I see all too often. I love the galvanized look myself, and I (umm) may have made this mistake in my Family Room as well.  It's like the too much white, use some, but mix it up . Other good choices for Farmhouse accessories are wood trays, and chunky glass bottles. Don't miss this opportunity to bring in some color.  Don't forget that to make the most of accessories you need to use the rule of three, and of triangles. You can read more about that in another post. There are lots of places to find great Farmhouse accessories: Walmart, Target, Ikea, and Amazon.
I like this one because it combines galvanized with glass. Not too much of either.  (You can click the picture to shop the look)

This tray combines some of the darker wood we need to have with our white, again with some galvanized.    (You can click the picture to shop the look)
Other online places to shop for Farmhouse accessories are:
This picture is a clickable link.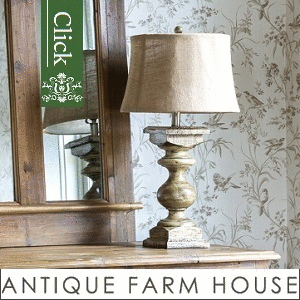 Decor Steals sends one thing a day to your inbox that's the deal of the day. They are heavy on galvanized, but you do need some.
This picture is also a clickable link.

Think chunky.
Unless you are doing French Farmhouse, get rid of the pretty little thin legged chairs and tables. Thin legs are good on French Girls, but for American Farmhouse we need some chunk. I have some shelves that have;cute little thin and curved brackets. When I fix all the other missteps in my Family room I will be replacing these brackets. You can cheat some on this if you are doing a Farmhouse mixed with Traditional style decor, which is what I will be doing in my Family Room. I love Farmhouse, my husband loves Traditional, I am working on a way to make the two love each other as much as we do.
I love this table for Farmhouse decor. It is chunky, and combines white and dark tones beautifully.  (You can click the picture to shop the look)
This is the chunky Shelf bracket I want for my Family Room makeover. I can't wait to see it on my wall. One of the things I  did wrong in my too much cottage not enough Farmhouse room was to use delicate thin shelf brackets. But hey they were white? What was I thinking?   (You can click the picture to shop the look)
This is more like what I have now that I am replacing. See the difference?
The wrong pillows.
Like accessories pillows can make or break a room. Farmhouse is pretty neutral in color, beige, whites, and browns. Use pillows that pull the colors from your accessories, and rugs. Remember the rule of three? It's powerful! Use the same color in 3 places in the room. Pillows are a great place to add that color your room may be lacking. I "ll be accenting with Blue, Grey and maybe some flashes of a Mustard Yellow. I also like to change out my Pillows with the seasons,  I have some for Christmas, Thanksgiving, Halloween, Spring, and Summer. Try  using Pillow covers instead of having pillows for all those seasons.  They are so much easier to store.  Who has room for all those pillows? The covers just fold up neatly and take up a lot less room in the space I have to store my decorating stuff.
Large Buffalo checks are a good choice for Farmhouse.  I want them in Blue to help accent that color choice in the room. (You can click the picture to shop the look)
Pillows with messages printed on the are also Farmhouse Favorites.  (You can click the picture to shop the look)
Feathers are always popular in my book.  (You can click the picture to shop the look)
Bad lighting choices.
When we bought our house 15 years ago ceiling fans were big, and they are still a popular choice for lighting and energy savings. I just have not seen any that scream Farmhouse at me. I think lighting makes such a statement in a room that it may be the hardest thing to choose. It is also the thing that really sets the tone for the type of Farmhouse decorating you are going for.   Consider replacing an overhear fan with a chandelier. Crystal if you are going Farmhouse Glam. or Farmhouse mixed with Traditional , an Iron look for American. Keep the lighting in harmony with the rest of the room.
Here's what I mean, this fixture would be great for a Rustic Farmhouse feel, but not at all for an American Farmhouse feel, or Farmhouse Glam.    (You can click the picture to shop the look)

This one would look great in a Modern Farmhouse, but not so much in a rustic one. See the difference?  (You can click the picture to shop the look)
This one would be great in a Farmhouse Glam room, but not so much in Traditional or Rustic.  (You can click the picture to shop the look)
That's all five of the mistakes you could be making with your Farmhouse style. I hope I have helped to get you crystal clear on what really makes Farmhouse decor work in a room.  Don't over do the white. Mix textures using glass, wood and metal in the accessories Go for chunky. Use pillows to pull out accent colors from rugs and accessories.  Finally use lighting to really make a statement about the feel of the room. I would love to see your before and after pictures of your rooms using this guide as a what to do and what not to do.
Want to see more great Farmhouse decorating ideas? Follow me on Pinterest  or Instagram.
Don't forget to join the Good Little Home Community to get more from me every week right to your inbox.